Dwayne Johnson AKA the Rock Offers Some Vital Life and Career advice to Every Individual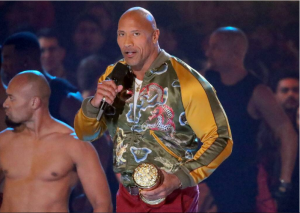 Recently, Dwayne Johnson aka the Rock was presented with the Generation Award at the MTV Movies and TV Awards with an acceptance speech that ought to be recorded in the history books. The actor while getting candid about his experiences, talked about his early period in Hollywood and how people had mixed views towards him.
As reported CelebrityInsider.org, Dwayne Johnson (The Rock) Has Some Advice which according to him would be beneficial to every individual. The actor went on by recalling his initial days at Hollywood where the producers and directors were confused about what to do with him. He was half Samoan, half black, 6 foot 4, 275-pound wrestler, going by the name The Rock. He was told in to act in a certain way and to stop doing the things that he loved.
The actor admitted that for years, he actually believed that is how the industry worked, and he was supposed to do exactly what he was told but later realized that he was becoming miserable because of it. This made him eventually choose not to change himself according to the rules of the industry but rather let Hollywood conform to him.
Later, Dwayne did prove everyone wrong by staying true or himself and simultaneously achieving success while being adored by millions of fans. The star, therefore, motivated everyone to be themselves as it is important but in the meantime, the joy and responsibility of bringing everyone along is equally significant.
He further says that the only way to bring people along is by being compassionate, kind and direct.  Dwayne Johnson stresses on being good to people because it matters and when someone achieves that place it is then that they become influential.
Related Posts :