Call Of Duty: Modern Warfare Details Exciting Gunsmith Skills, Captain Price Will Return With New Mates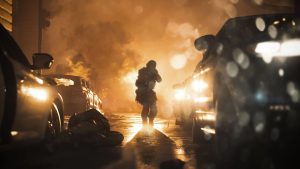 Infinity Ward is slowly starting to reveal details about the much-awaited re-launch of Call of Duty: Modern Warfare on October 25. The game will be available on PlayStation 4, Xbox One, and PC.
On Monday, it was revealed by Infinity Ward that the game will be equipped with new Gunsmith skill. This new skill will allow players to get their primary and secondary weapons augmented, which will help the community to find the perfect fit before a multiplayer round.
Due to this Gunsmith skill, the players with one assault rifle will have nine areas of weapon augment along with items like a laser light, a rear grip, an under-barrel, a stock, a barrel, a silencer, a greater magazine capacity, and a perk. Some of the guns will have more than five augmentation slots, and no gun will have less than five slots.
When the premiere trailer of the reboot of the game was launched by Infinity Ward and Activision in the month of May, it was certain that Captain Price will make his comeback. But, Call Of Duty – Modern Warfare details for the return of two characters from the franchise's other games, along with MW's popular NPCs.
McFarlane's toy advertisement confirmed that Captain Price will return along with two known faces when the game releases, though no teaser has been released yet.
As of now, we all are expecting that on August 1 there will be a full multiplayer reveal. The players spend their most of their time on the multiplayer mode of Call of Duty, and that's why Infinity Ward and Activision are putting all their efforts. Though the creators have not confirmed anything yet, still we can be certain that there won't be any more Gunfight mode.
Related Posts :